Stucco Contractor Servicing Bucks, Chester & Montgomery County In Pennsylvania PA
We can solve any stucco problems and perform any stucco repair.
Since the 90s we have been  PA stucco contractors offering our customers value and quality when performing stucco repairs, stucco  cement plastering and acrylic stucco installations, whether your project is commercial or residential,  stucco 3 coat system or  EIFS  stucco system we make sure that all of our projects have the proper  water management and drainage by installing the necessary materials and follow the manufacture guides.
Because many builders and contractors are not educate in the trade they have been and still installing stucco systems the wrong way, a recent  misconception with Stucco  is that it's not a great exterior cladding, Stucco WHEN IS DONE CORRECTLY  is by far a superior cladding in terms of  fire resistance,  maintenance free cladding, curve appealing as well as insulation rate value.
We don't have a one system fits all, we know each project is unique, with its own set of problems that require individual solutions. Stucco itself is a great cladding,we have to keep in mind that what is protecting our investment from the elements is not the stucco it self, in reality what protects our investment is the  waterproofing  and water management system behind the stucco and that's where we come into place and  that's mainly  what set us apart from the rest.
We work with the leaders in the stucco industry,  we are not scare of new stucco technologies as long as they follow our path  and  the same  water management principals.
If  you are in need of a professional contractor, looking for an installer, searching for an specialist, experiencing stucco, siding or stone  problems, feel free to contact us, we will be more  than glad to help you and answer all your questions.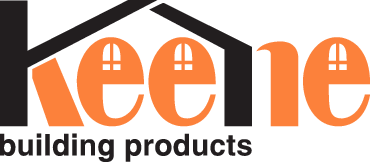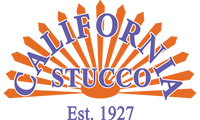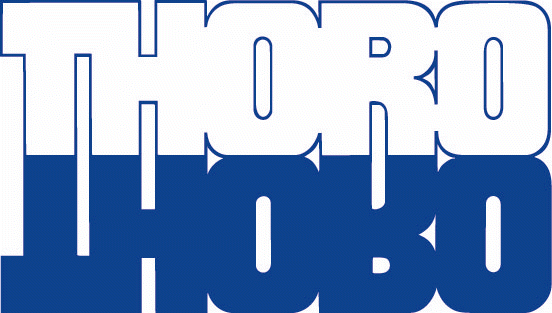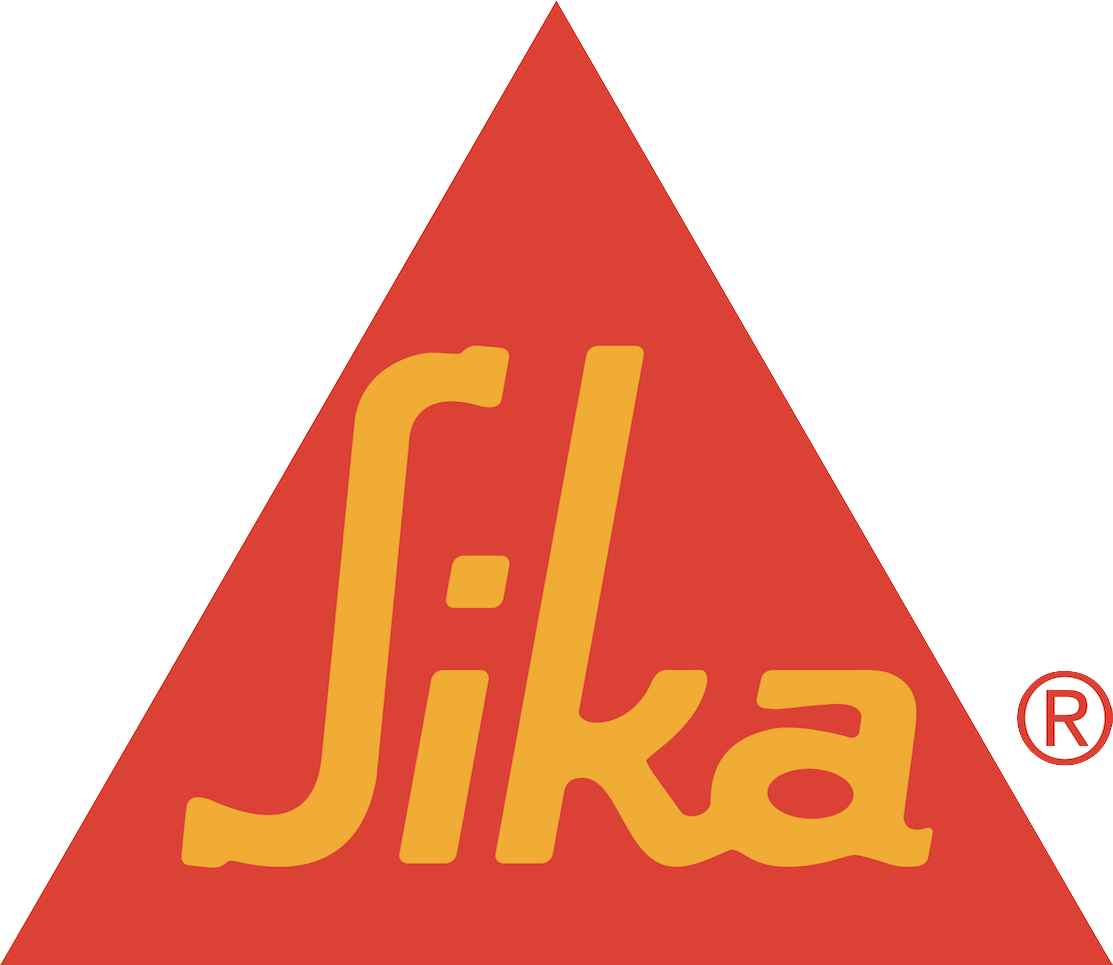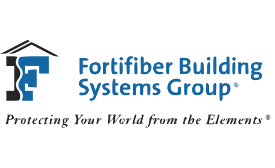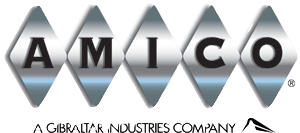 Frequently asked questions.
What is stucco?
Modern stucco is an exterior cement plaster wall covering, it is usually a mix of sand, Portland cement, lime and water but may also consist of a proprietary mix of additives including fibers and synthetic acrylics that add strength and flexibility.
As with any cement-based or acrylic  material, stucco must be reinforced to resist movement cracking. Wire lath  mesh attached with staples to the structural framing is embedded into the base coat to provided stiffening for the stucco. On  wooden walls normally  a water  resistant  barrier paper  is installed   we recommend a minimum of two layers  followed by a rain screen mat to ensure a proper drainage of the stucco along  with much more materials  and flashings to prevent  water  and  moisture accumulation.
Can I use exterior Stucco in an interior application?
Yes, stucco color coat may be successfully applied to a portland cement base substrate in an interior application. However exterior stucco color coat will not stick to drywall or other non-cementicious surfaces unless an adhesive is applied to the surface prior to the stucco application. For better results on stucco or Stone veneer interior installations wooden walls  are recommended together with a water and vapor resistant barrier, lath metal mesh and scratch coat to ensure  bondage and  a long lasting stucco application.
Can I paint stucco to get the color I want?
We don't recommend stucco to be painted, mainly because stucco when done correctly  is a maintenance free cladding, if stucco is painted the walls will require certain  maintenance routines. How ever YES, it can be painted to the color of choice.
Even thought  acrylic paints are  long lasting and durable when painting stucco we DON'T recommend them because they can change the permeability of the stucco (make it non-breathable) which in some climates may have adverse effects on the long-term.
When painting  stucco we  ALWAYS recommend  the use of a high grade Elastomeric Paint specifically designed for Masonry, Stucco and Brick exteriors, this paint is designed to expand and contract, it is 10 times thicker than standard acrylic paints and have a 300% elongation, its best attribute is that this paint is waterproof but a is breathable coating at the same time.
Alternatively, if the walls have not been painted before you could consider an skim coat  stucco system over existing stucco or masonry wall and then the application of a colored stucco finish of your choice, these finish coats are often pre-color mixed stucco bags or can be made with white cement and pigments providing a range of colors.
How long does stucco last on a building?
Properly applied and maintained stucco, is as durable as any commonly used cladding material. Its hard surface resists abrasion and can take a lot of physical abuse. It stands up to all sorts of climates, from cold to hot and wet to dry. Many older homes built in the early 1900s have had very little maintenance and remain in good shape today.
What is the difference between regular sand-cement stucco and acrylic stucco?
There are two main types of stucco finish, sand-cement and acrylic. Both incorporate the same traditional sand-cement basecoat, but the latter contains a flexible acrylic-based top layer. Acrylic stucco is more time consuming to apply, but is considered to be more water-resistant when a water management  has been properly designed and installed. The Acrylic finish downside is that it has a limited range of texture but comes in almost any color imaginable. On the other side  cement stucco plastering  has an unlimited variety of textures but is limited in color.
What is the difference between an EIFS stucco system and a 3 coat stucco system?
EIFS  stucco system 
(Exterior Insulation Finishing System)  is used a lot in commercial  projects  but can be use in residential. As the name suggest  EIFS is designed to provide the structure with  insulation, water resistant protection  and a finish surface, acrylic finishes such Parex, Total Wall, Senergy, Dryvit etc. are the most common stucco finishes for this stucco system. It can be applied over masonry walls, such concrete, stucco, brick and block,  materials like gypsum board tree-plywood sheathing and OSB. A  liquid  air and water proof membrane  is installed over the base surface  followed by the  installation of a 1 1/2″ minimum  EPS foam  using either cement base coat, mechanical fasteners or a mix of both, when installing the EPS foam with a cement basecoat it require the use of a notched trowel to create groves and gaps  between the sheathing and the EPS foam to make the system a draianble EIFS system. After the foam has been installed the EPS  foam is rasped to receive the application of the fiber glass mesh embedded in  base coat, this coat is allowed to dry and then the acrylic finish  texture is apply.  For more  pictures of  this process visit our
Drainable EIFS stucco system page
.
Stucco 3 coats
  is mostly a residential application system  but can also be use in commercial buildings. As the name suggest consist of a first coat of cement called scratch coat, this coat is embedded in metal lath mesh to resist movement and cracking, after the first coat of cement has cure contractor apply a second coat of cement called brown coat, this coat will prepare the surface for the third and last coat  called  finish coat, the over all  thickness of this system should be no minimum than 5/8″, under this system a variety of materials are installed depending of the sheathing it's been installed. For more  pictures of  this process visit our
Draniable stucco 3 coats system page
.
Why my stucco is failing?
Stucco can fail because of multiple reasons, some things are out of our hands, moisture can create stucco damage on walls because a leaky pipe within the structure walls, a flashing problem or even a roof shingle problem (incidents).
Unfortunately for the unluckiest  stucco fail because of poor craftsmanship was used when the property was build, stucco can fail because a wrong window installation, it can fail because a missing kick out flashing diverted  and many more causes, for more FAQ's on this  subject visit  our  stucco remediation  service page. You can also visit our blog post Eight reason why stucco and stone installations fail
GALLERY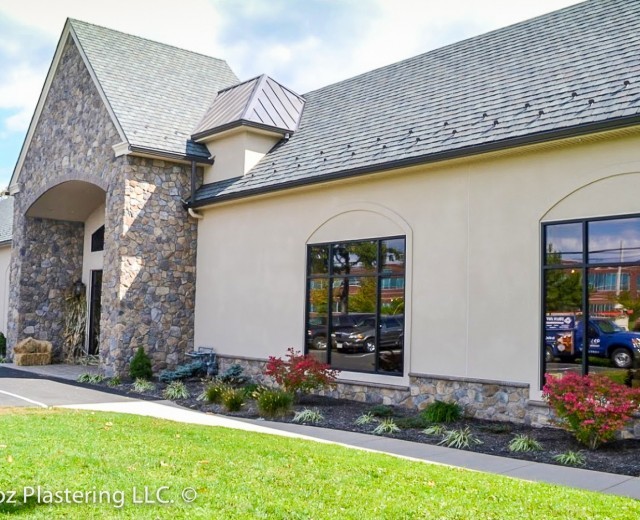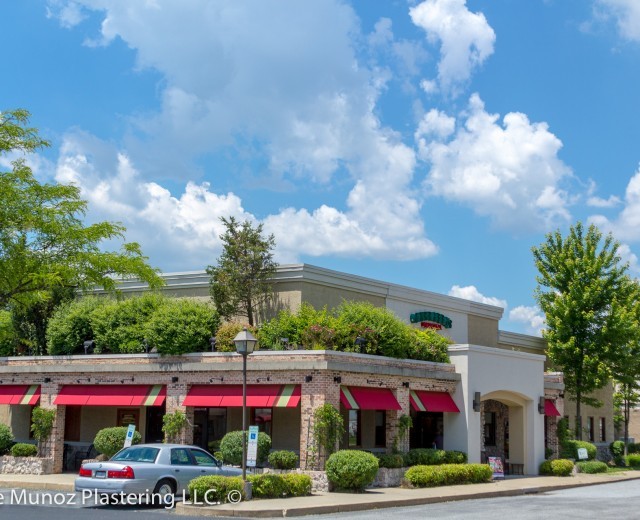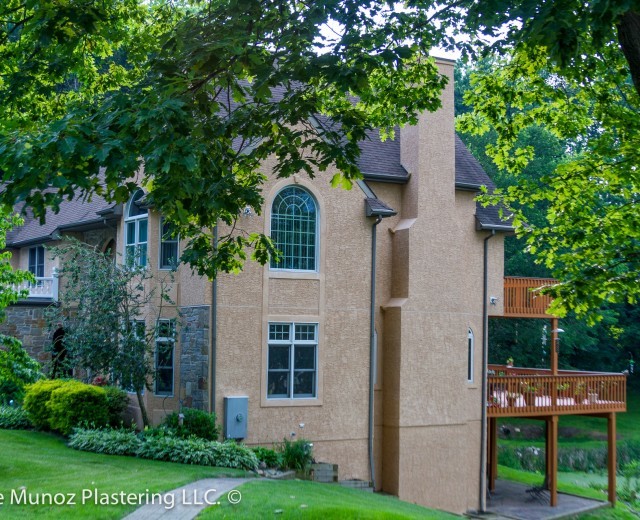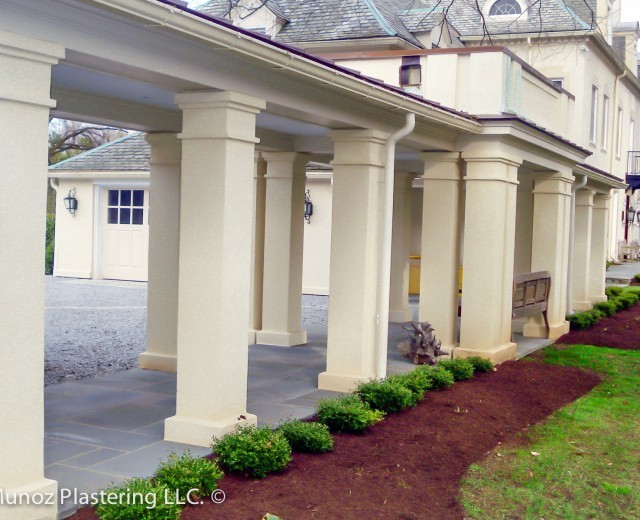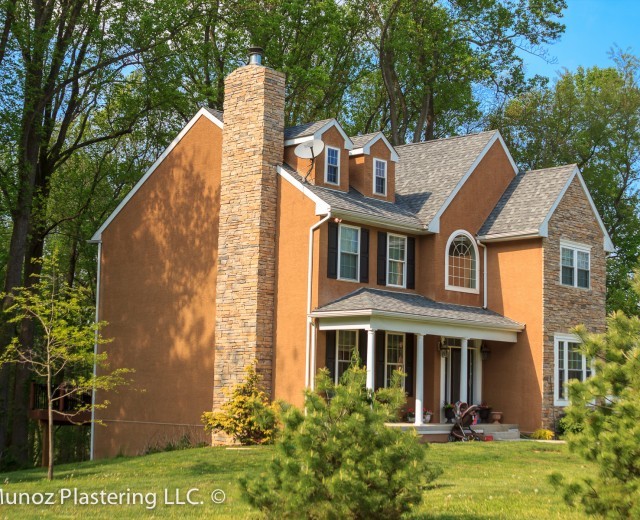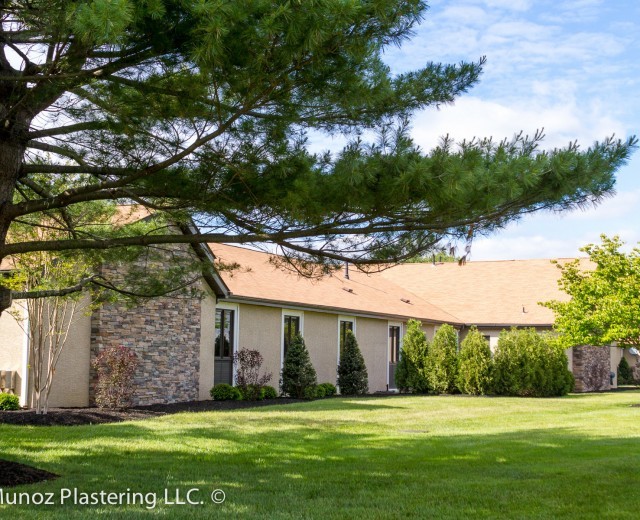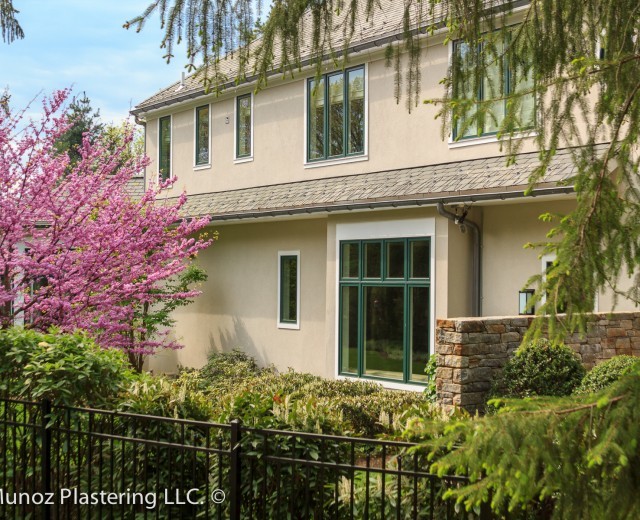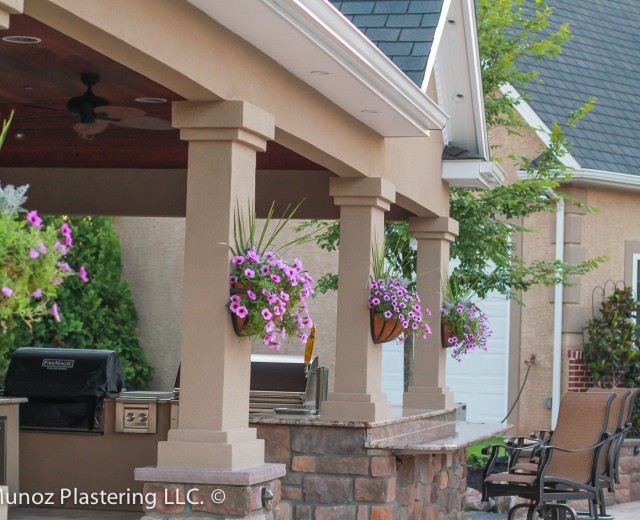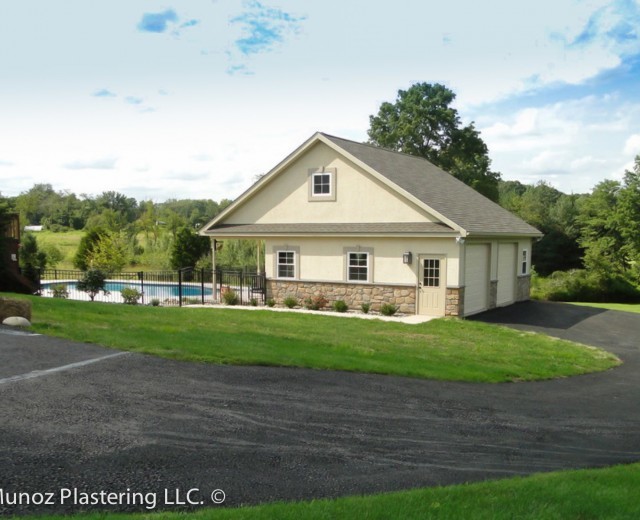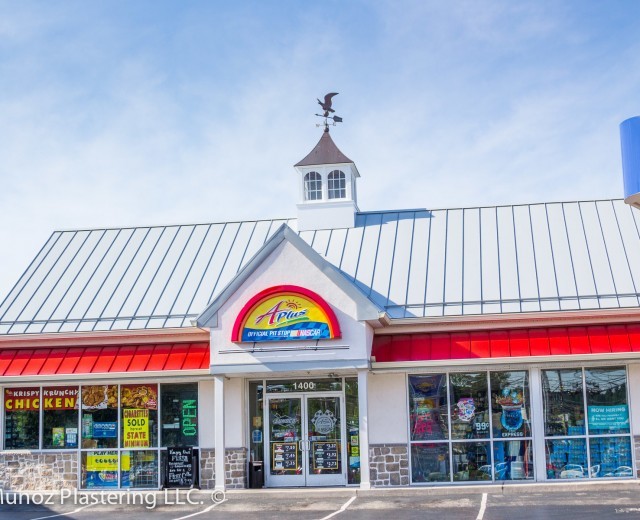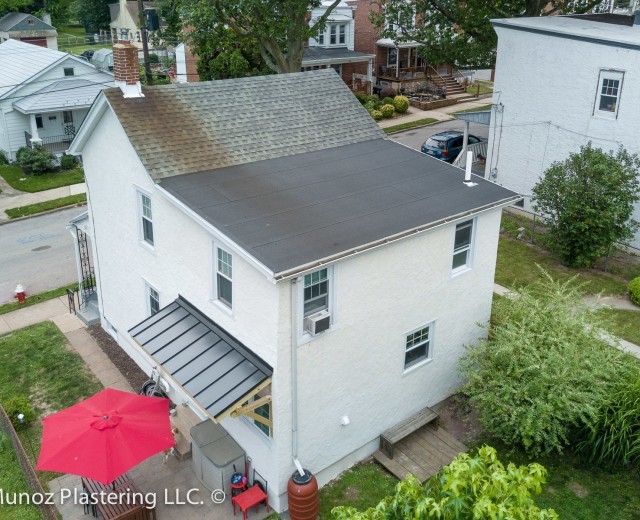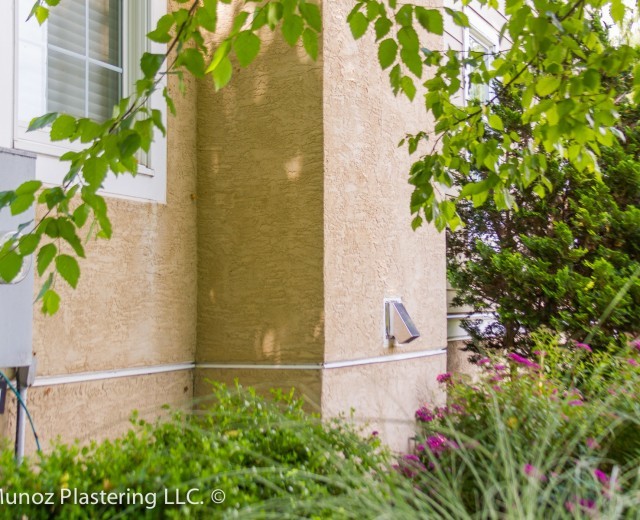 Be the first of your friends to Like, Share & Recommend this page